The Eighth Story. Nineteen Years Later.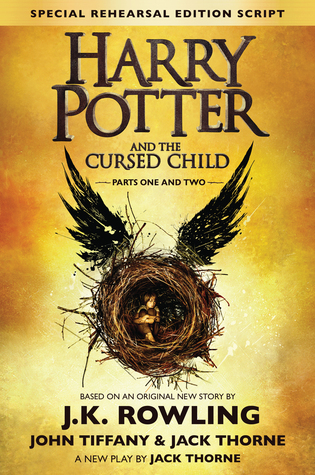 Based on an original new story by J.K. Rowling, Jack Thorne and John Tiffany, a new play by Jack Thorne,
Harry Potter and the Cursed Child
is the eighth story in the Harry Potter series and the first official Harry Potter story to be presented on stage. The play will receive its world premiere in London's West End on July 30, 2016.
It was always difficult being Harry Potter and it isn't much easier now that he is an overworked employee of the Ministry of Magic, a husband and father of three school-age children.
While Harry grapples with a past that refuses to stay where it belongs, his youngest son Albus must struggle with the weight of a family legacy he never wanted. As past and present fuse ominously, both father and son learn the uncomfortable truth: sometimes, darkness comes from unexpected places.
Review
First of all I have to say, I was delighted that there was another piece of Harry Potter I could cling onto. I'm also shocked that people are so against this play! If you haven't read it, please note the following things:
It is not a novel, so please stop treating it as such. This is a new way to present the story and should not be criticised as it is just speech... use some imagination or just go and watch the play.

J.K Rowling still had a massive involvement so don't criticise the storylines and how far they match what you think should have happened. She kind of owns these characters - JK would not have allowed anything she didn't like. This is like her baby.

Enjoy it! Everyone is out to attack it, just enjoy it for what it is. A nugget of a new chapter in Harry Potter's life.
I loved the new characters. Scorpious was a great addition as Draco's son; I always felt like Draco was just trapped in a family where he couldn't make his own choices and wasn't the villain that he was made out to be by many of the fans. Perhaps like Snape, he still found opportunities to be good. His son is almost the symbol of this for me and I, for one, loved it. Albus was hit and miss at times for me - he was childish and perhaps a little over the top for my liking however with a father like Harry to live up to? Perhaps he has his reasons.
In terms of reaching back to the characters we know and love, I liked Harry. He was a normal dad struggling with the day to day lives of his children. There are many reviews which say there is no way Harry would be a bad father but I say 'Where is he a bad father?' He is simply going through what most parents do, this does not make him a bad father. The ending was particularly poignant for me and brought back every ounce of love for the characters of which we are all so familiar.
The one character I did not like, or enjoy, was Ron. He was my favourite in the books and he had been turned into a
caricature of his former self. Small criticism... just small.
Overall, in terms of the story, I found myself emerged until I had finished the entire thing. It still managed to capture my world and delve me into a magical world. I didn't need the description that the books offered me because I knew this world and these characters so well already. I loved the time shifts - how could you not! The character's you know and love back from the dead with a pang for one in particular which I'll keep for you to find out yourself. There were new nuggets of information we didn't know before, like the role of the 'trolley lady' whose expertise is not just selecting and serving the right sweet. I will be going to see the play as soon as time allows me (and if I can actually bag myself some tickets!) If you truely love Harry Potter, I don't see how you wouldn't love this play.